Gilbert Estrada
Professor, History & Ethnic Studies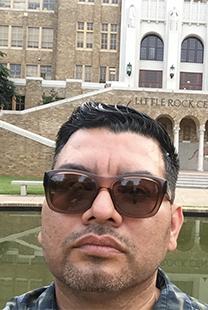 Dr. Estrada is an Associate Professor of History. He attended LBCC and later earned a BA and MA from CSU Long Beach. In 2011, he earned his Ph.D. in History from the University of Southern California. An urban historian, Dr. Estrada has spent twenty years researching the evolution of cities from Mesoamerican civic centers to contemporary global metropolises. He has published over a hundred articles on multiple platforms and gives frequent talks to academic and civic audiences.
At LBCC, Dr. Estrada teaches HIST 8A: History of the Americas, HIST 8B: History of the Americas (modern era), HIST 18: History of Mexico, HIST 11: U.S. History (modern U.S.), HIST 33: Chicana/o History, ETHST 1: Intro to Ethnic Studies, and HUMAN 7: American Pluralism and Identity. Lectures for these courses can be seen from his Youtube channel.
He has taught at UCI, USC, LMU, and Occidental College, among others, and has presented his research at institutions like AQMD, the MTA, and UCLA. A Southern California native, Dr. Estrada also enjoys art, music, swimming, reading, writing, and archery.