Lilliana Castro
Professor, Architecture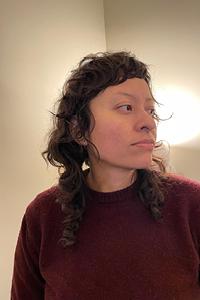 I am a multi-disciplinary designer, living and working in Los Angeles, with a holistic approach to design and design education. I am originally from El Salvador C.A., and received my Bachelor's of Architecture from SCI-Arc in 2008. Shortly after 2010 I founded my own business called Archeffect as a bridge between graphic design and architecture. I have been teaching studying Architecture and Design for 22 years and have been teaching for 7 years.
My work centers womxn, queer and BIPOC communities to empower and uplift indigenous practices. I truly believe that by sharing our knowledge and tools with our community we make design accessible and inclusive. I am grateful my work has been experienced at the Architecture + Design Museum 'Come In Les Femmes', the Coachella Music & Arts Festival 2012, EDC Las Vegas 2013, Coachella Music & Arts Festival 2014, and most recently the 1st place award winner of the Yes to ADU Design Competition in Los Angeles to alleviate the humanitarian crisis of homelessness.
I love experimenting new ideas, learning from my mistakes and bringing this energy into my educational delivery. I look forward to being of service and learning together.