Ceremony Info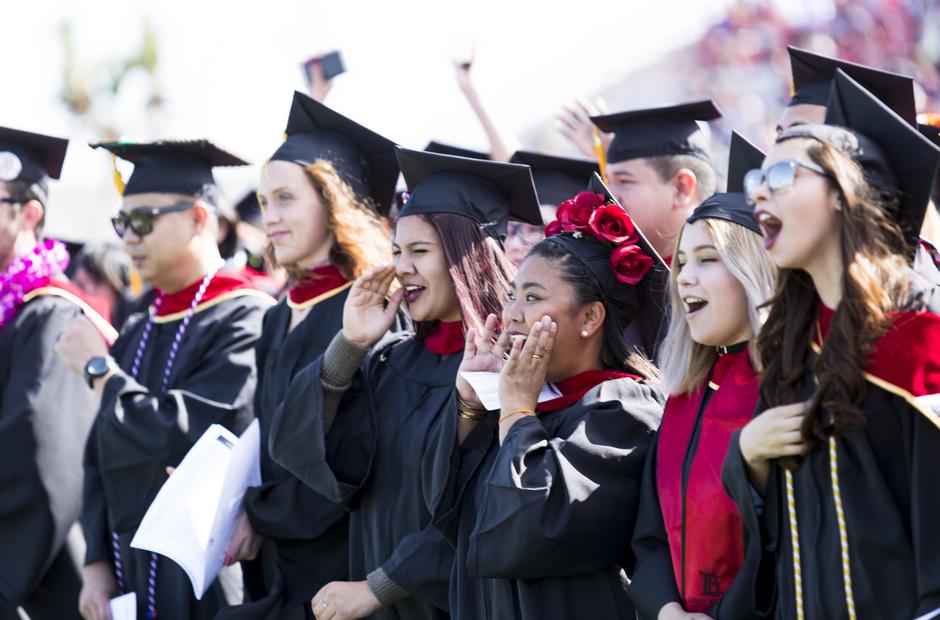 LBCC's Commencement Ceremony will take place on Thurs., June 8 at 4:00 p.m.
LOCATION: Veteran Memorial Stadium, Liberal Arts Campus
Gates open at 1 p.m.
Student line-up begins at 2 p.m.
The Ceremony begins at 4 p.m.
Check-In
Check-In
2:00 p.m. – Check-in at the baseball field on the east side of the stadium in your cap and gown.
Fill Out Graduate Name Card Phonetically
Get in Line for Student Processional
Line-Up
Students will line up on a first come, first served basis, in the following order:
Honors 3: 4.0 GPA
Honors 2: 3.75 – 3.99 GPA
Honors 1: 3.5 – 3.74 GPA
Kassai, Alpha Gamma Sigma, Associated Student Body (in no particular order)
If you wish to sit next to a friend, you will need to stand directly in front of or behind him/her.
Student Marshals (dressed in white robes) will lead each line along the track. Please do not switch or combine lines.
Program Flow – Program Begins at 4:00 p.m.
Recognition of Certificate Recipients During the Program
The Marshals will signal for certificate recipients to stand when "I am pleased to present the recipients of certificates of achievements for the 2022-2023 academic year" is said. As soon as "year" is said, the Marshals will raise their scepters, instructing all certificate recipients to stand. Non-certificate recipients should remain seated.
Presentation of Graduates
The Marshals will signal for graduates to stand when the Superintendent-President says: "I present to you the Long Beach City College graduates of 2023." As soon as "2023" is said, the Marshals will raise their scepters, instructing all graduates to stand at the same time.
Conferring Degrees
The President of the Board of Trustees will address the graduates and end her speech with the following statement: "I confer upon you the degree of Associate of Arts or Associate of Science."
At that point, all graduates will move tassels from right side of cap to left side of cap.
Prior to stepping on stage, each graduate will hand their reader card to a name reader.
Grasp the diploma case in your left hand and shake hands with the individual with your right hand on top of the diploma. Turn and face the photographer at this time for your official photo.
Exit the staging area down the center ramp. Return to your seat.
Alma Mater, All stand to sing the following:
City Collegium, we sing to thee Fair Alma Mater, down by the sea For honor and service, loyalty too,
Thy sons and thy daughters pledge their best to you All Hail, All Hail
All graduates and certificate recipients will remain standing until they have exited and the Marshals signal you to follow Ole. Ole will lead graduates through the tunnel to Parking Lot M for photos.