Male Success Initiative
Tailored Support for Men of Color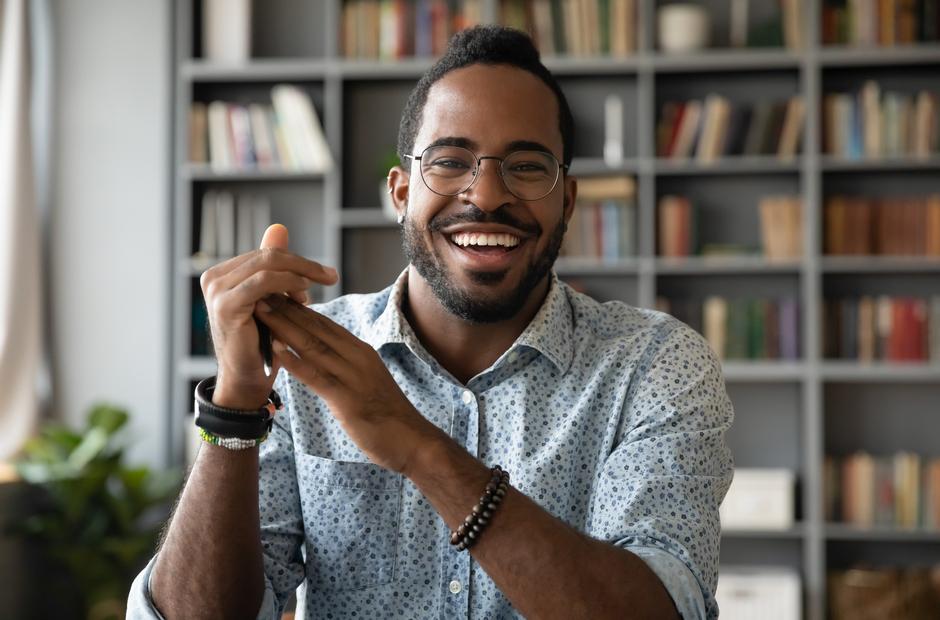 LBCC's Male Success Initiative (MSI) is designed to address the unique needs and challenges of men of color (MOC) by connecting them to existing services, bolstering a sense of belonging and identity, structured mentoring opportunities, and direct student aid. Our mission is to inspire MOC to dream while empowering them to act so that demography (race, socio-economic status, zip code) is no longer destiny. Navigate Onward to Brotherhood, Leadership, and Excellence…Be an MSI NOBLE Scholar!
What We Do
We firmly believe in the infinite potential of every one of our scholars and feel it is our responsibility to express that belief so loudly that it becomes their own. We couple that belief with concrete actions that address the diverse needs of our students through an eco-systemic approach that addresses the following five domains:
Academic Needs
Non-cognitive Needs
Social Needs
Environmental Needs
Institutional Needs
While we support our scholars in many ways, we have three primary areas of focus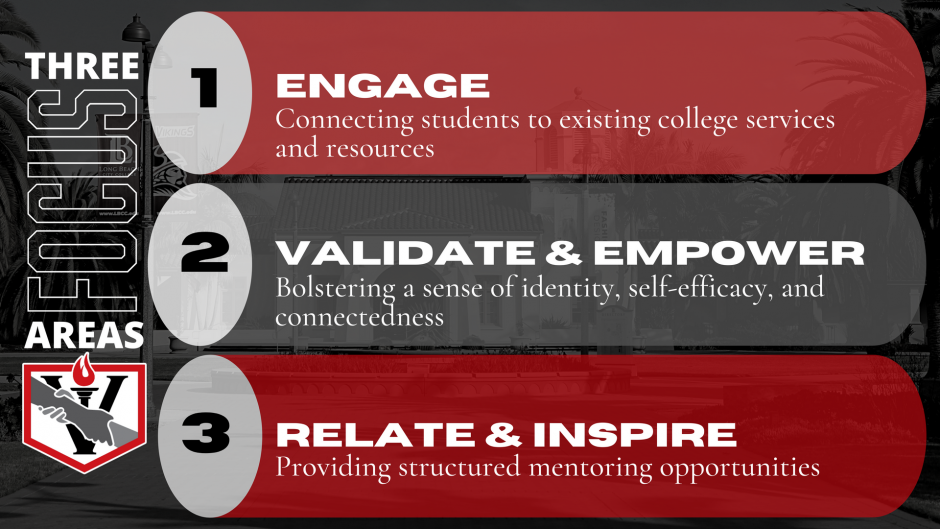 Engage by connecting scholars to existing college services & resources
Validate and Empower by bolstering a sense of identity, self-efficacy, and connectedness
Relate and Inspire by providing opportunities for structured mentoring
To accommodate the diverse needs and availability of our student population we offer multiple ways to be involved, which we call "Journeys". Below are the 3 Journeys our MSI offers along with a brief description of services included.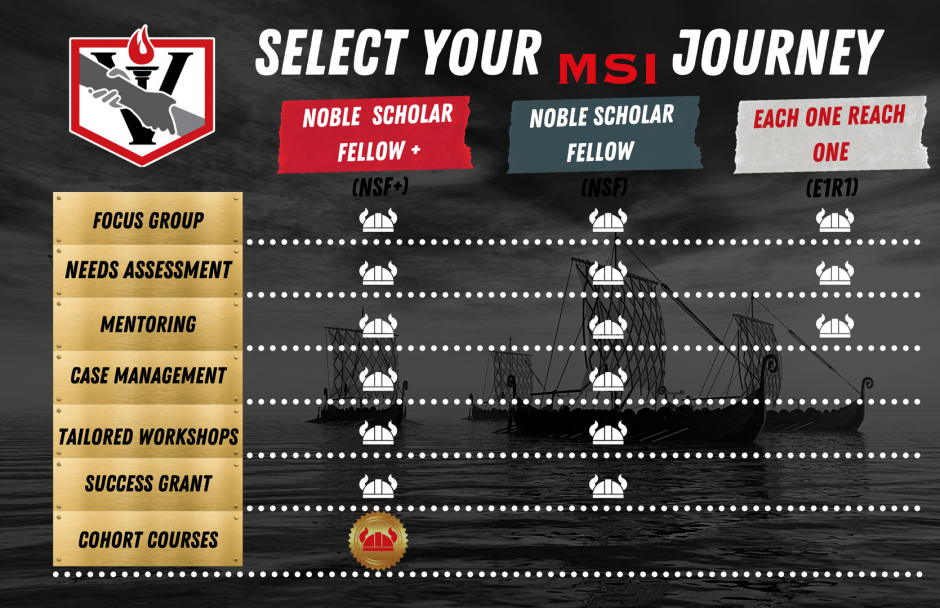 Click here for a PDF of our MSI Flyer
for more information message us at msi@lbcc.edu
Eligibility Criteria – Prospective Students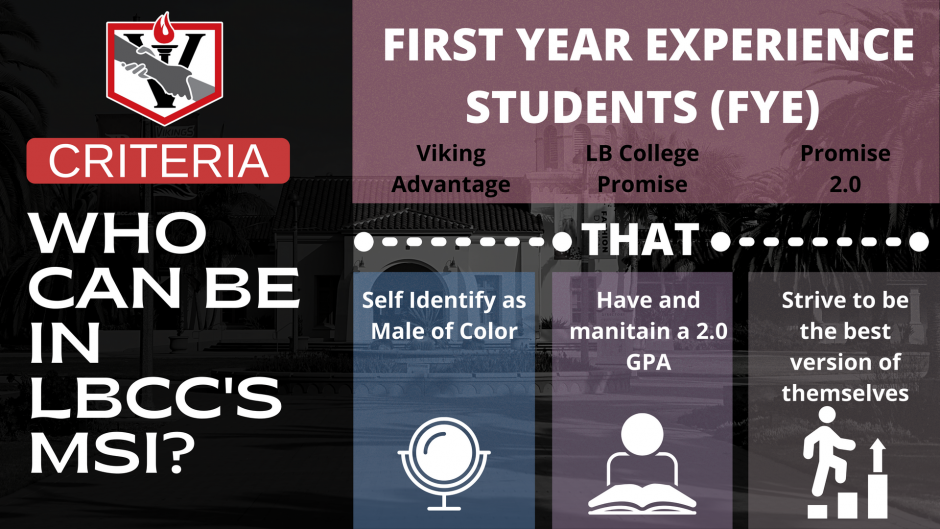 Our MSI is designed to assist its students in successfully transitioning to and progressing through their college experience. In order to be eligible for services, students:
Must be a First-Year Experience (FYE) student

LBC Promise
Promise 2.0 or
Viking Advantage)

Must be a first-time college student
Must be enrolled in 12+ units
Must have completed and submitted a FAFSA or Dream Act Application
Must have completed and submitted the Participation Agreement for the First-Year Experience (FYE)
Must self-identify as a male student of color
Must maintain a 2.0 GPA
Must consistently strive to be the best versions of themselves
If you meet our eligibility criteria and would like to add your name to our interest list, please click on this link.
for more information message us at msi@lbcc.edu
Benefits of Participation
All MSI participants instantly become part of something special and join a family of peers who chose to Navigate Onward to Brotherhood, Leadership, and Excellence.
As NOBLE Scholars you will benefit from:
Academic & Social Support through case management and progress monitoring
Brotherhood through participation in tailored events, workshops, and student clubs
Direct Aid in the form of a $250 Success Grant per semester (fall/spring) -Contingent upon level of participation and funding availability
Guest speakers that include college, community, and world leaders
Structured Learning Community where you take 2 college courses with a cohort of MSI peers (limited to 28 scholars due to current class caps)
Mentorship through 1-on-1 and group mentoring sessions
Networking by connecting with faculty, staff, peers, and community members
for more information message us at msi@lbcc.edu