LBCC Alum Dr. Blas Villalobos Selected as Community College League Distinguished Alumni Honoree
The decorated veteran will be recognized for his exemplary service and career accomplishments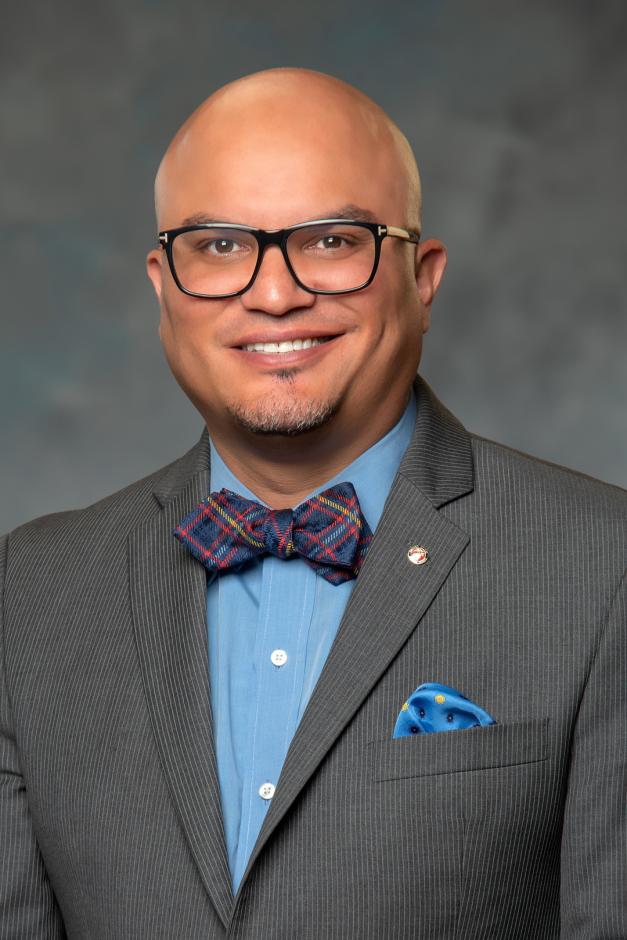 Long Beach City College (LBCC) graduate Dr. Blas Villalobos was selected to receive the prestigious California Community College Distinguished Alumni Award for 2023 by the Community College League of California.
Community College League of California selected Villalobos from a number of worthy honorees. The award recognizes career accomplishments and community service among community college graduates and will be presented at the League's Annual Convention in Indian Wells this November.
"Dr. Villalobos is a shining example of the transformative power of education and the ability to turn your passion into a career," said LBCC Board of Trustees President Herlinda Chico. "He is so deserving of the Distinguished Alumni Award for his many contributions to our Country, to our veterans and his service on the California Community Colleges Board of Governors."
"Dr. Villalobos is a decorated military hero and a true community college success story," said LBCC Superintendent-President Dr. Mike Muñoz. "We are so proud that he is a product of Long Beach City College."
Villalobos served in the United States Marine Corps from 1999- 2003. During this time, he was deployed to Iraq where he served as a Squad Leader. He earned several awards during combat operations including: The Combat Action Ribbon; Presidential Unit Citation; Meritorious Unit Commendation; Iraq Campaign Medal with two bronze campaign stars; and the Humanitarian Service Medal.
After his military service, Villalobos attended LBCC from 2004-2007. He went on to receive his bachelor's degree from Long Beach State, and his master's and doctorate degrees from the University of Southern California.
Villalobos credits much of his success to the support he received at LBCC, as part of a tight-knit community at LBCC's Veteran Resource Center.
"It was within the community of fellow veterans at LBCC that I fell in love with the work of advocating for veterans, which fueled a passion for service that has defined my career," said Villalobos.
Today, as the Chief Executive Officer of Centerstone's Military Services, he leads the organization's delivery of mental health and substance use disorder services to veterans, active duty personnel, and military families. Villalobos previously served as Veterans Affairs director at Chapman University, where he established the university's very first Veterans Resource Center. He headed former Los Angeles Mayor Eric Garcetti's Office of Veterans Affairs that assisted more than 12,000 veterans find full-time employment. He served as the executive director of Community Programs and Veteran Services for U.S. VETS Patriotic Hall. He was also a member of the Veterans Administration Advisory Committee on the Readjustment of Veterans.
He was appointed in 2021 to become a member of the California Community Colleges Board of Governors.
In recognition of his outstanding service and accomplishments, Villalobos was recognized with LBCC's most prestigious alumni honor in 2022 when he was inducted into the LBCC Hall of Fame.
Other LBCC alumni recognized by the League in past years include former Long Beach Mayor Beverly O'Neill, the Molina Family of Molina Health Care, comedian Paul Rodriguez, Major General Peter Gravett and the late singer Jenni Rivera.
---
About Long Beach City College
Long Beach City College consists of two campuses with an enrollment of over 25,000 students each semester and serves the cities of Long Beach, Lakewood, Signal Hill, and Avalon. LBCC promotes equitable student learning and achievement, academic excellence, and workforce development by delivering high quality educational programs and support services to our diverse communities. Visit www.LBCC.edu for more information about Long Beach City College.
MEDIA CONTACT
Stacey Toda
LBCC Associate Director
Communications & Community Engagement
(562) 938-4004