LBCC Celebrates New Kinesiology Labs & Aquatic Center with Ribbon-Cutting Ceremony
The $75-million athletic complex includes Olympic-size pool, beach volleyball courts and more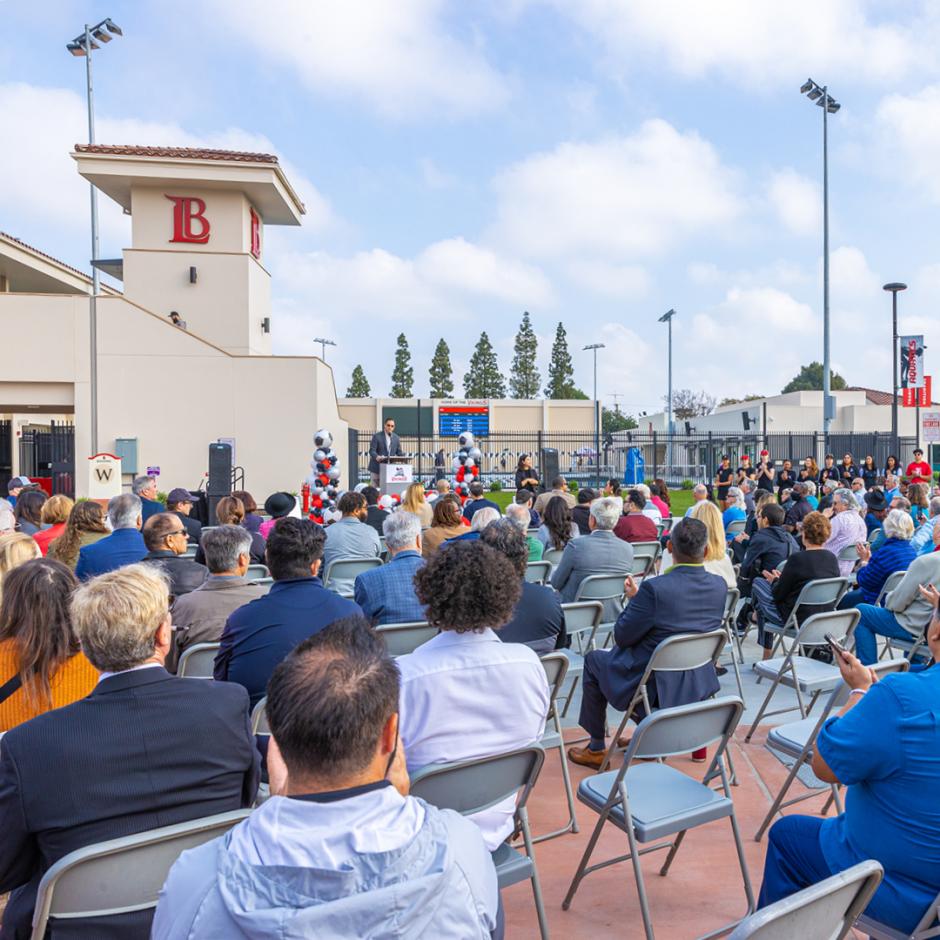 Long Beach City College (LBCC) celebrated the completion of its newest facility – the state-of-the-art Kinesiology Labs and Aquatic Center (KLAC) – with a ribbon-cutting ceremony at the Liberal Arts Campus site on April 1.
"Athletic programs are a big part of campus life at LBCC, not just for the athletes and coaches who will benefit greatly from these top-notch facilities, but for the entire community who look at our many successes on the field and in the pool as a point of pride," said Long Beach Community College District (LBCCD) Board of Trustees President Uduak-Joe Ntuk. "We thank our community for voting to approve the bond funds that built this amazing complex and we're looking forward to giving right back by opening up KLAC for the community to enjoy."
Highlights of the new 18-acre athletic complex include:
New artificial turf soccer and softball fields
New tennis courts
New beach sand volleyball courts
New 50 x 25 meter Olympic-size swimming pool and 12,000 square feet of support facilities in the Aquatic Center
"LBCC is proud to say that we have Olympians coaching our athletes, so we are excited that we now have athletic facilities to match the gold-medal coaching that our students are receiving," said LBCCD Superintendent-President Dr. Mike Muñoz.
The new athletic facilities will meet the long-term needs of the Intercollegiate Athletics Department, providing premiere space where students can learn, train, practice and compete. Softball, Swimming & Diving, Water Polo, Men's and Women's Soccer, Tennis and Beach Volleyball programs will all take advantage of the new KLAC complex.
Construction began in Spring 2020 and the project was primarily funded through Measure E and Measure LB bond funds approved by the voters for renovation and modernization at both LBCC's Pacific Coast and Liberal Arts Campuses.
The project architect is Westburg & White and BERNARDS is the general contractor for KLAC. The Cordoba Corporation oversees and manages all Measure E and LB projects.
---
About Long Beach City College
Long Beach City College consists of two campuses with an enrollment of over 25,000 students each semester and serves the cities of Long Beach, Lakewood, Signal Hill, and Avalon. LBCC promotes equitable student learning and achievement, academic excellence, and workforce development by delivering high quality educational programs and support services to our diverse communities. Visit www.LBCC.edu for more information about Long Beach City College.
MEDIA CONTACT
Stacey Toda
LBCC Associate Director
Communications & Community Engagement
(562) 938-4004