LBCC Superintendent-President Dr. Mike Muñoz Appointed By LT. Governor to Serve on Transfer Degree Committee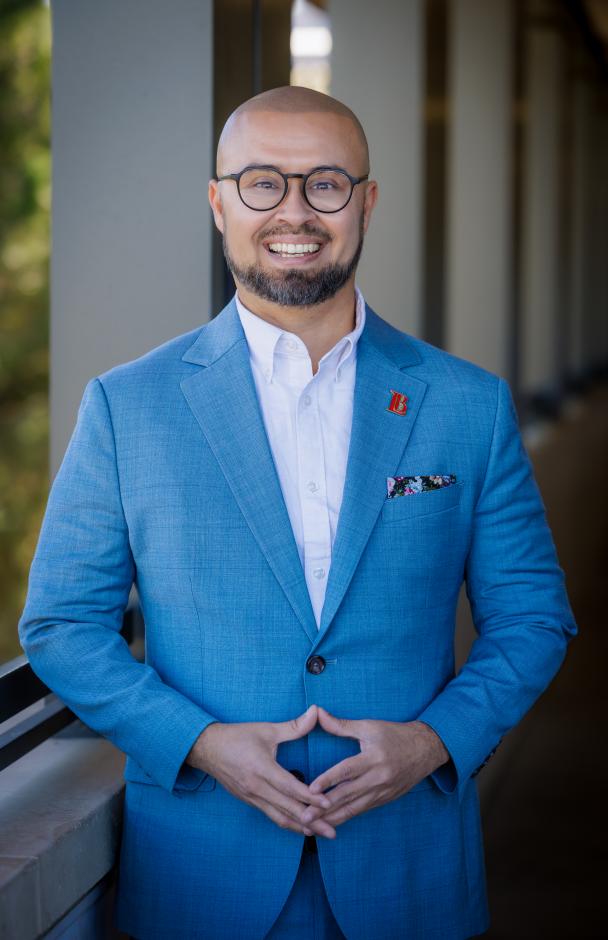 California Lieutenant Governor Eleni Kounalakis appointed Long Beach Community College District (LBCCD) Superintendent-President Dr. Mike Muñoz to the Associate Degree for Transfer Intersegmental Implementation Committee, as the representative from an educational equity and social justice organization.
"I applaud the appointment of Dr. Mike Muñoz to this important committee because there is no better person in this state who can expertly strategize on increasing degree attainment and closing racial equity gaps," said LBCCD Board of Trustees President Uduak-Joe Ntuk. "I'm delighted that the social justice and equity work that Dr. Muñoz has accomplished throughout his career is being recognized by placing him in this role that will impact millions of Californians."
The Student Transfer Achievement Reform Act of 2021 was passed by the California Legislature and signed by the Governor Assembly Bill 928 (Chapter 566, Statutes of 2021) to transform the transfer process through three student-centered provisions, including the creation of the Associate Degree for Transfer Intersegmental Implementation Committee (AB 928 Committee) to serve as the primary entity charged with the oversight of the Associate Degree for Transfer (ADT) and to provide the Legislature with recommendations on certain issues impeding the scaling of the ADT and streamlining transfer across segments for students.
"I am excited to serve on the Associate Degree for Transfer Intersegmental Implementation Committee and thankful to Lt. Governor Kounalakis for appointing me," said Muñoz. "Since the start of my career, I have always been focused on removing the barriers that sometimes prevents our students from achieving their educational goal. I'm honored to be selected to serve on a committee that will allow me to continue this work on a much larger scale."
Muñoz will serve on the committee until June 30, 2025.
Muñoz is a nationally recognized leader in higher education who serves on the Board of Directors for the National Community Colleges Hispanic Council, a founding Board Member of COLEGAS, the California Community Colleges Latinx professional association; and as a Board Member for the California Conference on Equality and Justice. He is an expert in closing racial equity gaps for students of color, creating inclusive campus cultures for LGBTQIA+ students, and effectively leading for transformational change.
Muñoz joined LBCC in 2018 as the Vice President of Student Services. In December of 2021 he was selected as the Superintendent-President, beginning in January of 2022. Muñoz has been instrumental in LBCC's work so far in advancing racial equity work at the College as Co-Chair of the President's Taskforce on Race & Equity and serves as the lead administrator for the College's Framework for Reconciliation.
A product of the California Community College system, Muñoz attended East Los Angeles College and Fullerton College before transferring to the University of California, Irvine, where he received his bachelor's degree in Psychology and Social Behavior. He received his master's degree in Counseling and his doctor of education with a specialization in Community College Leadership, from California State University, Long Beach. He is a first-generation college student. While attending college, he experienced both food and housing insecurities — all while caring for his daughter as a single father.
Long Beach City College was named a 2021 Champion of Higher Education for the fourth time in five years by the Campaign for College Opportunity during a virtual event last November. California Community Colleges have awarded more than 359,000 Associate Degree for Transfer (ADT), with LBCC always a top conferring institution. In 2021, LBCC saw an overall increase of 35 percent of Associate Degrees for Transfer — with a 45 percent increase for Asian and Filipino students, and a 10 percent increase for Black/African American students.
---
About Long Beach City College
Long Beach City College consists of two campuses with an enrollment of over 25,000 students each semester and serves the cities of Long Beach, Lakewood, Signal Hill, and Avalon. LBCC promotes equitable student learning and achievement, academic excellence, and workforce development by delivering high quality educational programs and support services to our diverse communities. Visit www.LBCC.edu for more information about Long Beach City College.
MEDIA CONTACT
Stacey Toda
LBCC Associate Director
Communications & Community Engagement
(562) 938-4004