Long Beach City College Earns Prestigious Seal of Excelencia Recertification
Thirteen Institutions Nationwide are Verified as Intentionally Serving Latina/o/x Students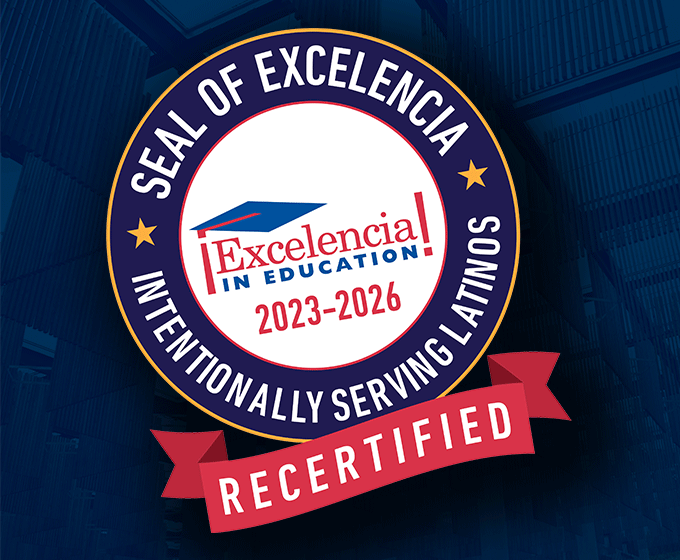 WASHINGTON, D.C. (September 29, 2023) – Excelencia in Education, the nation's premier authority on efforts accelerating Latina/o/x student success in higher education, announced today that Long Beach City College (LBCC) has been recertified with the prestigious Seal of Excelencia for demonstrating through data, evidence-based practices, and leadership, how it is intentionally serving Latina/o/x students.
"LBCC is thrilled to receive our Seal of Excelencia recertification," said LBCC Board of Trustees President Herlinda Chico. "To LBCC, the Seal of Excelencia represents our commitment to provide innovative programs and services to our Latina/o/x students. This achievement is the result of the amazing LBCC employees who work tirelessly to serve our students. Our strong and resilient students serve as a constant reminder of the transformational power that education can have in improving lives, and they inspire us to continue our work every single day."
LBCC was the first California Community College to receive the Seal of Excelencia in 2020.
"Recertification with the Seal of Excelencia means the world to all of us at LBCC," said LBCC Superintendent-President Dr. Mike Muñoz. "It signifies to our Latina/o/x students that they are not just present on our campuses, but are seen and valued here. The Seal of Excelencia also reminds the LBCC family that we are part of a community that celebrates the unique stories, perspectives, and contributions, of our Latina/o/x students as they strive for excellence in every facet of their academic journey."
Excelencia has offered the Seal of Excelencia — a national certification valid for three years — since 2018 to recognize institutions that are trendsetters for the transformation needed to accelerate Latino student success and meet the overall mission of higher education. The Seal of Excelencia framework is a comprehensive institutional self-assessment tool for aligning and progressing efforts to intentionally serve Latino, and all, students across data, practice, and leadership. It represents learning from over 20 years of working with colleges and universities.
In an announcement livestreamed nationally from Excelencia's National Policy Forum in Washington, D.C., Excelencia recognized Long Beach City College and four other institutions that were recertified, and nine institutions that earned the Seal of Excelencia for the first time. These institutions join 30 other Seal-certified institutions from around the country. Combined, the 39 Seal-certified institutions enroll over 15% of all Latino students and graduate 17% of all Latinos. Together with Excelencia, they lead and transform higher education to advance Latino talent vital to the country's workforce and economy.
"There is a real difference between colleges and universities that enroll Latino students and those that intentionally serve them," said Deborah Santiago, Co-founder and CEO of Excelencia in Education. "Those that earn the Seal are trendsetters on a journey of transformation, showing what it takes to progressively increase positive outcomes for Latino, and all, students for others ready to meet the mission."
The other four recertified Seal of Excelencia institutions are: California State University, Sacramento (CA), The University of Texas at Austin (TX), The University of Texas at San Antonio (TX), and University of Illinois Chicago (IL). The newly certified Seal of Excelencia institutions are: Angelo State University (TX), California State University, Long Beach (CA), California State University, Los Angeles (CA), California State University, Northridge (CA), Metropolitan State University of Denver (CO), Phoenix College (AZ), Richard J. Daley College (IL), St. Edward's University (TX), and Texas Woman's University (TX).
An institution earns the Seal by demonstrating alignment across the three core areas of data, practice, and leadership, which show:
Evidence of effectiveness and intentionality in institutional practices serving Latino students
Positive momentum for Latino student progress in their data
Dedication to transforming the institution into an environment where Latino students thrive
Strategies in leadership that clearly articulate institutional focus on advancing Latino student success
Excelencia Co-founder and President Sarita Brown said, "College and university leaders who focus on student success generate momentum for the transformation of higher education. Excelencia is proud to make common cause with these leaders. Through our network, we support and catalyze institutions striving to engage and graduate more Latino students."
Brown added, "With today's announcement, students, families, policymakers, and higher education may look to the institutions from this network that have earned the Seal of Excelencia certification for intentionally serving Latino students as they make their choices. Excelencia is proud to work with these trendsetters to advance Latino talent for the workforce and civic leadership and ensure America's bright future."
The Seal is not a ranking, nor an award. It is a rigorous verification process that culminates with certification. Excelencia began Seal certification as one of the organization's transformational strategies to lead colleges and universities to go beyond simply enrolling Latino students. The Seal provides the means to use data and practice to instill intentionality in serving Latino students.
---
About Long Beach City College
Long Beach City College consists of two campuses with an enrollment of over 25,000 students each semester and serves the cities of Long Beach, Lakewood, Signal Hill, and Avalon. LBCC promotes equitable student learning and achievement, academic excellence, and workforce development by delivering high quality educational programs and support services to our diverse communities. Visit www.LBCC.edu for more information about Long Beach City College.
MEDIA CONTACT
Stacey Toda
LBCC Associate Director
Communications & Community Engagement
(562) 938-4004