Vivian Malauulu
Vice President, Area 2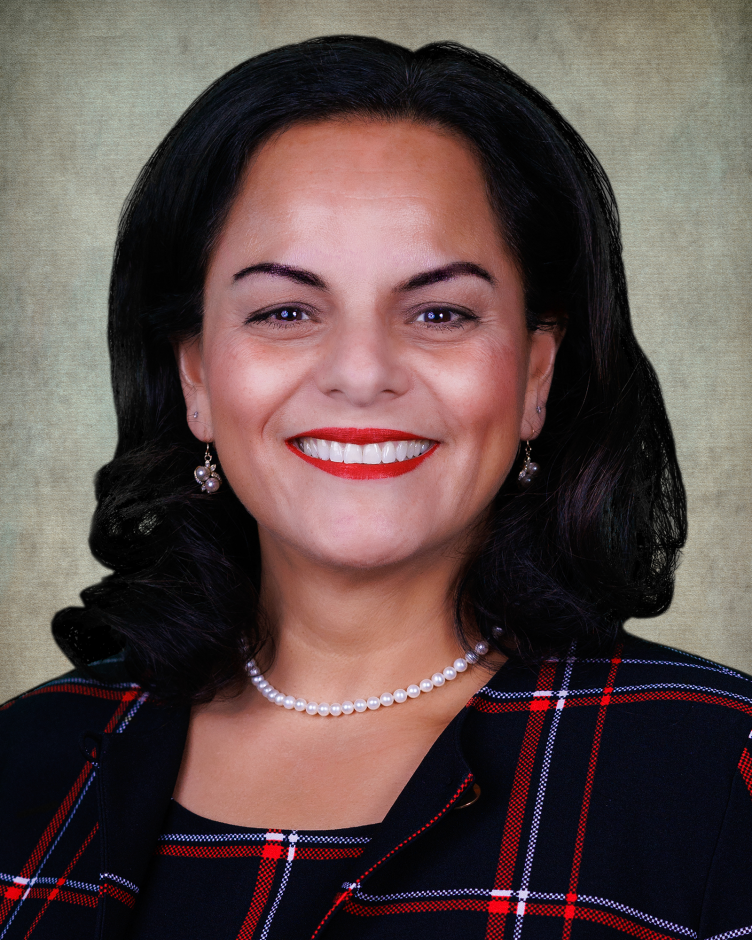 Vivian Malauulu is the first Latina elected to the Long Beach Community College District Board of Trustees to represent Area 2 which covers all of West Long Beach, parts of the south-central downtown area, and Signal Hill. She is also the first board member with direct ties to a Polynesian family. Vivian is currently serving as the Board's Vice President. She was previously unanimously elected by her colleagues to serve as Board Vice President (2018) and Board President (2019), culminating in the longest tenure of any Board Chair due to county election realignment which happened to occur during the public health crisis caused by the COVID-19 pandemic.
A career educator, Vivian has more than 25 years of substantial in-the-classroom experience teaching a variety of high school subjects for the Los Angeles Unified School District, as well as classes at Los Angeles Harbor College and California State University, Dominguez Hills (CSUDH). She has a bachelor's degree in Journalism from California State University, Northridge (CSUN), a master's degree in Educational Administration from CSUDH, and four K-14 bilingual teaching credentials. When she was elected to the College Board in April of 2016, Vivian taught Journalism part-time at Long Beach City College (LBCC) and was an active member of the Executive Boards of both the Certificated Hourly Instructors (CHI – which represents the part-time faculty) and the Trades Advisory Council at LBCC.
Vivian is a full-time registered longshore worker with Local 13 of the International Longshore and Warehouse Union (ILWU) at the Long Beach/Los Angeles twin-ports complex. She has more than 25 years of experience manning a variety of jobs in several skill categories of marine cargo work. The membership of Local 13 has repeatedly elected her to serve multiple terms on the Executive Board and the Political Action Committee (PAC), and in 2017 she was the first woman elected as Trustee of Local 13 overseeing the local's financials. Vivian has served as an elected delegate to the Southern California District Council (SCDC) which includes representatives from other locals and is the political and legislative arm of the ILWU in Southern California from Fresno to Mexico and Nevada to the coast. She has also served multiple terms as the Chair of the local's Publicity/Public Relations Committee and chaired it during the term which covered the 2014-2015 contract negotiations that generated unprecedented international attention for the union, west coast ports, and the maritime industry. At that time, Vivian coordinated press advisories and releases in English and Spanish and was the contact for all Spanish-only media. Her work with Local 13, through the SCDC, and other labor groups involves extensive educating and organizing efforts on and off the docks. In 2018, Vivian became the first woman in the ILWU's 84-year history elected as Local 13's Benefits Officer, which is one of only six titled offices in the local. She still holds that position which is elected annually with no term limits, and requires that she advocate for the welfare and pension benefits on behalf of some 35,000 members, retirees, and their dependents, and to represent them in grievances and arbitrations.
In addition to her teaching and longshoring experience, Vivian has consistently fulfilled her deep-rooted passion to write by regularly contributing to various media outlets as a bilingual freelance journalist. She has bylines in a wide range of publications along with credits in radio and television covering a variety of subjects. A significant amount of her contributions have been published both locally and internationally, and in Spanish.
She was born Vivian Ramirez in an impoverished barrio of San Pedro Sula, Honduras to a young, single mother. Together and through many hardships, they migrated to California in 1981 pursuing what all immigrants want from America – the chance of a better life. Vivian was seven years old and spoke zero English. She became Vivian Williams when her mother married an African-American petroleum engineer who adopted Vivian and raised her as his own. Together with her mother and stepfather, Vivian settled in Carson, CA where she grew up in an all-Black neighborhood and attended all-Black public schools. She was a hard worker and tested out of the English as a Second Language (ESL) program in three months, and tested into the Gifted and Talented Enrichment (GATE) program in less than one year. Identified as a "high achieving" student, Vivian enrolled in Honors and Advanced Placement classes played after-school sports, and was elected as student body president of every school she attended. In high school, she was awarded various honors including induction to the National Ephebian Society, National Honor Society, California Girls' State, was voted Homecoming Queen, and was chosen for five of the 18 senior personality polls including Most Popular and Most Likely to Succeed. Vivian was chosen to represent the City of Carson as an ambassador to Soka, Japan where she spent the summer of 1991. All of this while working several part-time jobs after school and on weekends.
After high school, Vivian immediately moved to the San Fernando Valley where she worked her way through an undergraduate degree in 3.5 years at CSUN, while working in the newsroom at various radio stations throughout Southern California. She was quickly promoted to an on-air personality and ran the console of various shifts around her class schedule. In her last semester at CSUN, she worked at Univision's KMEX Channel 34 as a general assignment field reporter. Upon graduation, she was hired by the Alameda Corridor Project which was the largest public works development in the country at the time. Her work in acquisitions and eminent domain hosting Spanish town halls up and down the corridor earned her an appointment as the youngest Public Relations Commissioner in the City of Carson, sparking her passion for public service.
It was around that time that Vivian met, fell in love with, and married her husband, George Malauulu. The alluring "short school days, Christmas, spring break, and summers off" teaching schedule enticed her to quit her demanding government job and only four years after graduating from Banning High School in Wilmington, CA she returned to her alma mater to teach. She was only 22 years old when she started teaching and coaching track and field at her beloved BHS. With a promising and stable teaching career ahead of her, she settled down to pursue a graduate degree in education and to start a family in Long Beach.
Vivian and her husband, who is also a former educator, and current longshore worker and elected ILWU dispatcher, have been married for 25 years. Together they are raising their four children (ages 14-23) in the Wrigley neighborhood of West Long Beach. George, who was the ambidextrous star quarterback at Carson High School, earned an athletic scholarship to the University of Arizona and is the founder of the AIGA Foundation which assists student-athletes secure scholarships to play at the next level. The Long Beach Malauulu Family – as they are affectionately referred to – is very active in local school, sports, civic, and church activities.
In spite of working full-time in the longshore industry, serving at LBCC, and raising a very busy family, Vivian continues to be involved in the community as a 10-year Board Member of the Greater Long Beach YMCA Early Childhood Education Program, and as a decades-long volunteer in several neighborhood groups. She also serves as Commissioner Emeritus on the City's Commission on Youth and Families where she termed out after eight years and where she served multiple terms as Chair and Co-Chair.
Vivian serves in the leadership capacity of several other organizations, including:
The National Association of Latino Elected and Appointed Officials (NALEO) of which she is a lifetime member and current Board Member, elected 2022-2025

Association of Community College Trustees (ACCT) Board of Directors, elected 2021-2024

The State of California Task Force on Addressing Workforce Impacts of Transitioning Seaports to a Lower Carbon Economy (AB 639), appointed by the State Senate 2021-2024

The Los Angeles County Recovery Task Force for post-COVID Economic Resilience as a representative from Labor, appointed by the County Supervisors 2020
Some of the most recent recognitions Vivian has received for her service include:
As a prominent Labor Leader at the annual Breaking Barriers 2023 event hosted by DemoChicks.

As an esteemed panelist at the annual Celebrating Women in Trade 2022 event hosted by the Port of Long Beach.

The distinguished Honorable Jenny Oropeza Political Leadership Award 2021 presented by the Democratic Women's Study Club of Long Beach for effectively using her role as a trustee, commissioner, and public servant to represent every member of the community in light of the current challenging political climate. Vivian's service was recognized as diplomatic, fair, and honest by the presenters.

The prestigious Domenick Miretti Award 2020 presented by the globally-renowned Center for International Trade and Transportation (CITT) named after university professor, community activist, and fellow ILWU member who dedicated his life to advocating for a meaningful and strong coalition between education, labor, and the transportation industry. Vivian was recognized for continuing his legacy through her work involving both the ILWU and LBCC in the community.

The highly-regarded Trustee Leadership Award 2020 presented by the international Association of Community College Trustees (ACCT) for her contributions to the Pacific Region which includes community colleges in Alaska, Hawaii, Washington, Oregon, California, Idaho, Nevada, Utah, Arizona, Western Canada, and several countries in the South Pacific – including American Samoa. This was the first time an LBCC trustee received this prominent recognition.

The celebrated Mujer del Año 2020 (Woman of the Year) recognition as the Mujer Rompiendo Barreras (Woman Breaking Barriers) presented by the Regional Hispanic Chamber of Commerce and the Regional Hispanic Institute for her work advancing and promoting the Latino community through education and labor resources, and supporting various Census 2020 efforts to ensure that everyone was counted.
Vivian acknowledges that the opportunity she was blessed with to come to this country changed the trajectory of her life. She credits her strong faith in God, her passion for education, and her tough work ethic for guiding her on the road to public service. She takes pride in serving with her family, and joyfully dedicates her three careers – teaching, longshoring, and writing – to encouraging students and teachers, equipping workers, and empowering the community.