Human Resources Support
The mission of this program is to provide students with a solid foundation for individuals seeking positions in human resources. The program emphasizes employee relations, communication, ethics, recruitment, career platforms, developing training documents, presentations, and utilizing spreadsheet software.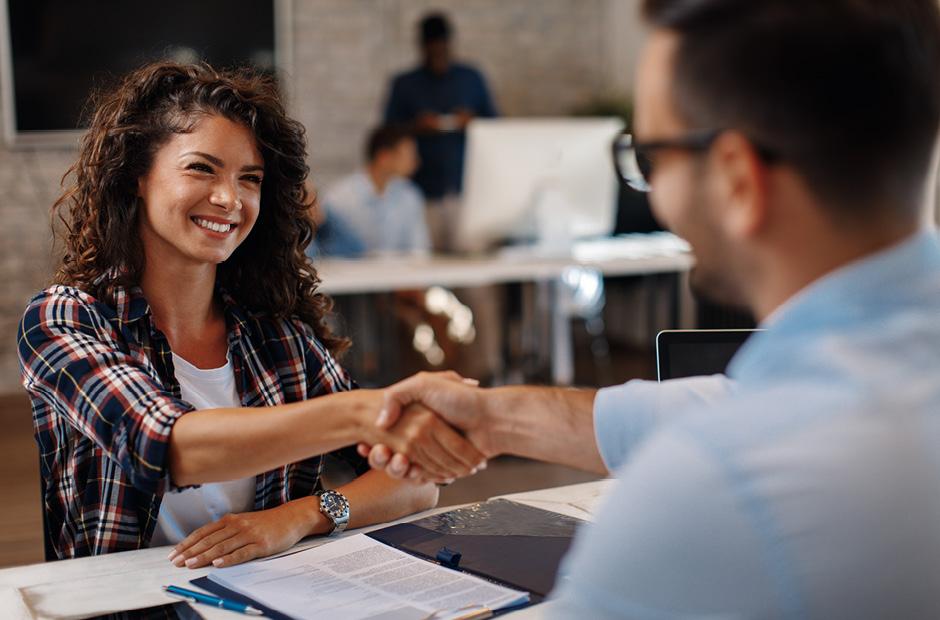 DEGREES & CERTIFICATES
---
Administrative Assistant, Human Resources Support – Certificate of Achievement (C-ACH)
View all LBCC's Programs of Study and Curriculum Guides.
(New students need to refer to the current academic year for the most up-to-date info)
CAREER INFO
For entry to mid-level Human Resource positions, you will provide administrative support to job applicants, new hires, existing employees, and managers. Responsibilities may include handling employee relations, managing emails and calendars, recruiting new employees, administering payroll and benefits, and overseeing training programs. Proficiency in interpersonal skills, organization, and computer applications is critical in this field. Having emotional intelligence is essential to best serve individuals with different backgrounds and experiences. Pursuing professional development opportunities, building credibility, and networking with other professionals can help you advance in your career. This career provides the opportunity to work in various industries and has the potential for promotion as experience is gained.
POTENTIAL JOBS
---
Benefits Specialist
Human Resources Analyst
Human Resources Assistant
Human Resources Coordinator
Human Resources Generalist
Human Resources Specialist
Payroll Technician
Recruiter
Talent Acquisition Specialist
Training Coordinator
To explore potential jobs in this field of study, we strongly urge you to visit LBCC Career Center. Working with a career counselor, we will assess your strengths, skills, interests, and accomplishments to help you identify internship opportunities and career goals that match your educational and professional needs.
FAQ
(click the questions below to reveal the answer)
What does the Human Resources Support program entail?
The Human Resources Support program teaches you the skills you need to work as a human resources assistant, such as managing employee relations, communication, scheduling, recruitment, training, and utilizing computer applications.
What types of courses will I take in the program?
You will take courses that cover topics like human resource management, business communication, computer applications, and job search skills.
What kind of skills and knowledge will I gain from completing this program?
By completing this program, you will gain the knowledge and skills needed to work as a human resources assistant, such as interpersonal skills, organization, and computer proficiency.
Can I take courses online or do I need to attend in-person classes?
Some courses may be available online, and you can take them at your own pace. However, some courses may require in-person attendance.
What kind of job opportunities are available after completing this program?
After completing this program, you can work in various industries, such as healthcare, finance, education, and government. You can also work for individuals, small businesses, or large corporations.
How long does it take to complete the program?
The program can take about 1-2 years to complete, depending on your enrollment status and course load.
Make a 30-minute appointment with an academic counselor to receive services in educational plans, transcript evaluation, and career planning.
Are there any prerequisites for enrolling in this program?
Yes, there may be prerequisites, such as basic computer skills or English proficiency.
Can I transfer credits from this program to a four-year university?
Yes, you may be able to transfer some credits to a four-year university, but it depends on the institution's policies. Most two-digit courses are transferable. You can check assist.org, contact LBCC's transfer center or contact the school where you wish to transfer.
Is financial aid available for this program?
Yes, financial aid is available to eligible students. You can apply for grants, loans, or scholarships through the college's financial aid office and by applying to FASFA.
Can I meet with an advisor to discuss my options and get guidance on which courses to take?
Yes, you can meet with an advisor who can help you with course selection, academic planning, and career goals. They can also answer any questions you may have about the program.
Please visit the Counseling Office for Academic Counseling, Career Exploration, Educational Planning, College Transfer, Student Resources, and many others to help you achieve your educational goals.
How to transfer & lookup comparable course listings?
To help determine if courses taken at other schools are comparable to Long Beach City College courses, please visit LBCC Transfer Evaluation System (TES).
For more information, please visit LBCC Transfer Center.
How do I receive my degree or certificate after I finish the coursework?
You will need to complete an application for your degree or certificate and submit that application to the LBCC Admissions & Records office. Read how to apply for graduation and receive your degree or certificate for more details.