Nike Selects Fashion Student for Diversity by Design Apprenticeship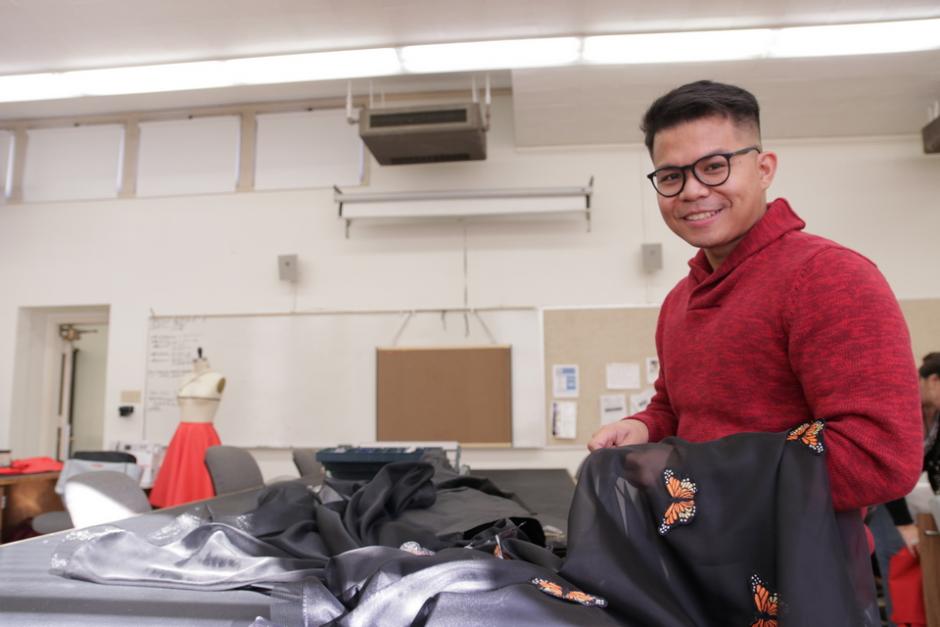 Ask Patrick Rivera what he did last summer and the Navy Reserve officer with a Bachelor's Degree in Political Science will tell you proudly that he learned how to sew at Long Beach City College.
The second-year LBCC fashion student was selected by Nike for a full apprenticeship, complete with living expenses, moving costs and salary for six months at the Nike Oregon headquarters, starting this month.
Nike, through the Los Angeles Area Chamber of Commerce, contacted LBCC Workforce Development Director, Melissa Infusino as they searched for students to apply for its Diversity by Design Apprenticeship. Infusino, in turn, contacted the LBCC Fashion Program Director Pamela Knights about the opportunity. The Fashion Program's top students applied for the apprenticeship and participated in a series of intense competitions.
"Fifteen of our outstanding students applied, and four were invited to a creative combine," said Knights. "Design research was required ahead of time, there were on-the-spot projects in which Nike provided the markers and templates but there were no computers allowed. There were workshops and briefings to compete in both footwear and apparel. It was all very intense."
Knights is very impressed with Rivera's talent and accomplishments throughout the last two years.
Rivera said he "started from scratch" moving to the United States in 2014 from his native Philippines. Once he became a Navy Reserve officer, it was time to choose a career.
"I was feeling a little bit lost so I thought I should go back to school. LBCC has good reviews and was the closest school with a fashion program," said the Carson resident. "I always have had a drive to create something but I didn't know the right medium to express it. The journey to creating and seeing what I created, after long hours of sewing, what I have created is very fulfilling. This is a great honor to represent Long Beach City College at Nike."
Infusino was happy to play a small part with connecting Rivera and Nike.
"LBCC has some of the most talented and amazing students and I am thrilled to play a growing role in cultivating relationships with industry and economic development partners to create and connect with opportunities like the Nike Diversity by Design Apprenticeship," said Infusino.
Find out more about the LBCC Fashion Design program and discover what our Workforce Development job training can do for you.