Alumni: Hall of Fame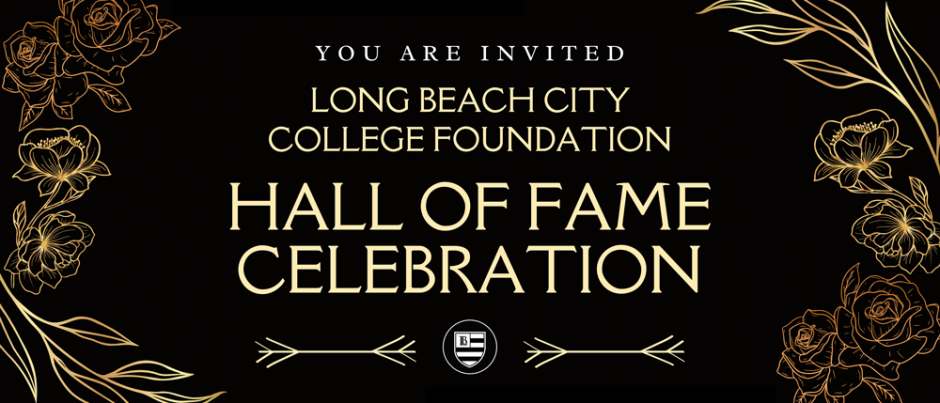 The annual Long Beach City College Hall of Fame Induction Awards Celebration honors alumni and friends' outstanding contributions to Long Beach City College and the Community. We encourage the entire Long Beach community to join us as we recognize the honorees on September 22, 2022, at The Grand in Long Beach.
On behalf of the LBCC Alumni Association, we thank you for helping us honor LBCC's outstanding supporters!
Registration for the Hall of Fame Celebration 2022 is CLOSED.
We look forward to seeing you for this event! For questions regarding your registration, please contact Daniela Vega at 562-938-4163 or dvega@lbcc.edu.
LBCC Hall of Fame 2022 Award Recipients
Alumni Hall of Fame
Distinguished Service Awards
Community Spirit – Individual
Community Spirit – Organization
Campus Friend
History of the Long Beach City College Alumni Hall of Fame
The Long Beach City College Alumni Hall of Fame was originally created by the Associated Student Body Cabinet as a way to honor former students who have excelled in their chosen professions after leaving the College. The first induction ceremony took place on campus in 1972 and was a small affair that inducted three worthy individuals. Every year since then another class of three to five outstanding individuals has been added. The ceremony has evolved from a small gathering hosted by the ASB Cabinet to a large off-campus affair hosted by the Alumni Office that can appropriately honor the inductees and accommodate the large number of individuals who want to celebrate their achievements.
These inductees represent a wide variety of professions and personal interests including the areas of Arts and Entertainment, Athletics, Business and Industry, Civil Service and Government, Community Service and Philanthropy, Medicine and Science, and more. In order to honor the many outstanding athletes who have competed on the fields and courts over the years for the Vikings, in the mid-1990s a separate Hall of Champions ceremony was created. The main lobby of the gymnasium is dedicated to displaying the photos and accomplishments of these talented athletes.
With the induction of the 2022 honorees, the total number of Hall of Fame members stands at 188 outstanding individuals. All those inducted create an outstanding list of individuals who are not only well known locally, but in many cases nationally and internationally. They not only serve as role models to inspire current students but also represent the value of the wonderful education one can receive at the College. The photographs of the Hall of Fame members are displayed in T-1200, located on the Liberal Arts Campus.